GET RACE READY
SIGN UP TODAY
CONQUER YOUR OBSTACLES
GET STARTED TODAY
Ready to tackle a Spartan, but don't know where to start?
GET STARTED TODAY
Get ready to conquer whatever lies in your path. Programs are designed specifically for your fitness level, OCR experience, and type of race your are training for. Conquer your obstacles!
Join a small group of 4-6 and get Spartan fit and ready to conquer the Sprint, Super, Beast, or Ultra. Cultivate discipline, drive, and determination. Conquer a Spartan Race or simply get in the best shape of your life! 6 & 12 week programs available.
Interested in a Spartan Race, don't have anyone to run with, and don't want to go it alone? Train and race together with an experienced Spartan SGX Coach! Includes race planning, prep, and a race day partner. Lets do this!
About
Commit to starting! Prepare for your first or fiftieth obstacle course race with Columbia SGX no matter what your fitness level may be.  Offering personal training, small group sessions, and obstacle workshops.
Ken Peluso, CPT / Spartan SGX Coach, is passionate about helping people succeed. Whether it be pulling themselves off the couch or transitioning from a casual OCR participant to a competitive athlete, Ken is dedicated to preparing Spartans, physically and mentally, for any obstacle they may face.
As a certified Spartan SGX Certified Coach and two time OCR World Championship Competitor, Ken knows what it takes to turn even the absolute beginner into a Spartan Race Finisher.
SGX Training Phases
Function Phase
– Establish a base level of conditioning
– Address Mobility, Stability, Agility and Balance
Fitness Phase
– Build on base conditioning with advanced exercise progressions
– Increase metabolic demand and tighten up nutrition
Performance Phase
– Maximize physical output and strengthen mental tenacity
– Become race ready!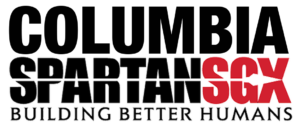 SGX is designed for every fitness level and any age, a scientifically-supported solution to get anyone physically and mentally prepared for a Spartan Race, or to live more vitally. SGX is grounded in functional bodyweight exercise to improve agility, athleticism and power; the workouts are progressive, varying in exercise volume, intensity and specificity over time.
SGX training will benefit you on the race course or on the soccer field, at the box or at the yoga studio, on the track or on the trail, at work and at home, and in how you feel every day.
Eileen L.
I signed up for the July 2016 PA Spartan Super in December of 2015. 5 months later, I found out I had breast cancer. That was followed by surgery and radiation treatments that ended 4 days prior to the race. As a result, I had a number of physical limitations and restrictions. Instead of postponing the race, Ken said that he would run the race with me all the way through as long as it took to finish. So for 6 hours, I had the most amazing coach, trainer, and friend by my side encouraging me and helping me complete my first Spartan. And yes, I did complete it! Thank you Ken.
Candy R.
When a coach is passionate and encourages you every step of the way you will see that nothing is impossible. I am beyond happy with every session. I always feel proud and great after completing a session because I know I am moving closer and closer to meeting goals all thanks to Ken Peluso. By far the best coach I have ever worked with!
PRICING PLANS
Below are standard obstacle course race training rates. We always welcome conversations around your fitness level, goals, and race plans to be able to give you a custom quote to fit your needs.
PERSONAL TRAINING
Obstacle Training
General Fitness
Strength Training
Endurance Training
Trail Running
Mobility & Flexibility
GROUP TRAINING
Train with a Small Group
6 & 12-week Programs
Obstacle Training
Endurance Training
Strength Training
Mobility & Flexibility
RACE PREP
Get Race Ready!
6-10 Week Program
Obstacle Training
Strength Training
Endurance Training
Mental Preparation
Nutrition & Hydration